Blue Jays put Donaldson on waivers
If all goes well in his rehab assignment in Dunedin, expect the Toronto Blue Jays to put veteran third baseman Josh Donaldson on waivers Wednesday and then trade him on Friday, TSN Baseball Analyst Steve Phillips writes.
Stephen A.: Garrett needs to be gone now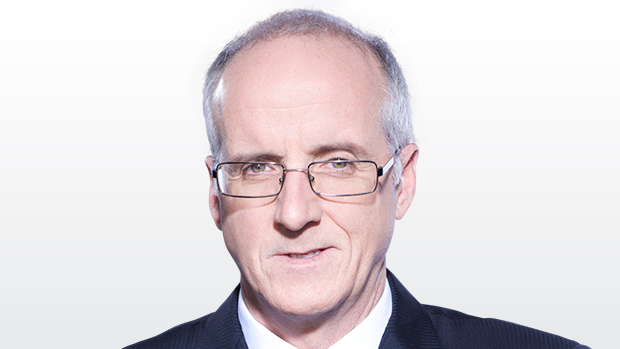 As Josh Donaldson gets his baseball legs beneath him while on a rehab assignment in Dunedin, Fla., the Toronto Blue Jays front office is scheming to see if they can trade the veteran third baseman. General manager Ross Atkins and president Mark Shapiro are keeping their fingers crossed that Donaldson doesn't suffer any setbacks while playing in the minor leagues.
Remember that during this time of the year a player must be run through waivers in order to be traded. During most of the season, clubs can trade players on the disabled list, but during the waiver period players must be healthy when they're placed on waivers. In order to put a DL-player on waivers, the club has to certify that he is healthy and capable of playing at his accustomed level. A claiming club has the right to know that if they are awarded the claim they're getting a healthy player.
If all goes well on Tuesday night (Donaldson finished 1-for-2 with a walk and an RBI in five innings in his first rehab game with the Dunedin Blue Jays), then I expect the Jays to put Donaldson on waivers Wednesday. The waivers would clear on Friday at 2 p.m. ET and leave the Jays about 10 hours to complete a deal before the midnight deadline. In order for a player to be eligible to play in the postseason, he must be a member of an organization before the deadline passes.
I fully expect scouts from a number of teams to attend the rehab games in Dunedin to watch Donaldson play on Tuesday, Wednesday and Thursday. The 32-year-old Donaldson will be a bit rusty since he hasn't played since May 28. Clubs will definitely want to know that he is moving free and without limitations. If he isn't moving without a limp, then no one will likely trade for him. But there is no amount of free movement that will mitigate the obvious risk of re-injury. Because of that, there is nothing Donaldson will do in those games to dramatically improve the type of deal the Blue Jays will be able to make, if there is one to make at all.
It is highly unlikely that any team will claim the slugger on waivers as he makes about $122,995 per day during the season. The prorated salary remaining on his deal after Friday is $3,689,850. Because of the uncertainty of his health, any team that has interest in the 2015 American League MVP will want Toronto to eat a significant portion, if not all, of his salary. If a team claims Donaldson, the Jays would likely just give him away and save the money.
Once Donaldson clears waivers, the Jays will be able to consider a trade with any club that's interested. The likely structure of a deal will take into account the health risk. The type of deal that makes the most sense is something like this: Donaldson and cash considerations will be traded to a club for a player to be named later. The quality of the player to be named later will be based upon the impact Donaldson has on his new team: If he plays on the postseason roster, the Jays get a Player off List A (second-tier prospects); if he plays 20-plus games but isn't on the postseason roster then the Jays choose a player off List B (third-tier prospects); if he plays in less than 20 games and isn't on a postseason roster, the Jays choose a player off List C (fourth-tier prospects). This tiered structure allows the clubs to mitigate risk while the Jays still get fair value if he performs for his new team.
The New York Yankees and Boston Red Sox could both use Donaldson. The Yankees could use him as the DH or play him at third and move Miguel Andujar to the DH role. As for the Red Sox, third baseman Rafael Devers is on the disabled list for a second time with a hamstring strain. The biggest obstacle for both clubs is the luxury tax threshold.
The Yankees cut their payroll in 2018 and are committed to not going over the $197 million level. They are hoping to reset their status as a first-time offender if they go over in 2019.
The Red Sox are up against the $237 million threshold, which if they go over will trigger an additional surtax. Under the surtax rules in the collective bargaining agreement that began last year, the rate for the Red Sox rises to 32 per cent on the amount above $217 million this year, and the rate would rise to 62.5 per cent on any amount above $237 million. This most likely means that neither club will claim Donaldson and any deal would have to include the Jays covering the remaining salary.
The Cleveland Indians, St. Louis Cardinals and Atlanta Braves are other clubs that might have interest in him as well. They are all safely below the luxury tax threshold line and might be willing to assume some financial commitment and give up a prospect to get a deal done.
I expect Donaldson to get traded on Friday. And why shouldn't he? The Jays won't present him with a qualifying offer this winter. If they did, he would accept it because he can't expect an $18 million guaranteed deal in 2019. So if Toronto doesn't trade him they won't get anything for him at all. They should make whatever deal they can.
Tulo stuck in limbo
Too bad the Jays can't trade Troy Tulowitzki. The veteran shortstop hasn't played a single game this season because of his ailing heels. He had surgery to relieve the issue but he's done for 2018. Tulowitzki is hopeful he can return to form in 2019. He has $38 million guaranteed over the next two seasons and will make $20 million in 2019 and $14 million in 2020 with a $4 million buyout on an option in 2021. The reality is that he has an unmovable contract right now because of his health and underperformance.
The Blue Jays would love for Tulowitzki to return to form and be the Gold Glove calibre defender and Silver Slugger offensive threat he was when he commanded that deal. But that is highly unlikely.
He says he would welcome a competition at the shortstop position and that he sees himself as a shortstop only. When asked whether he would accept a utility role, Tulowitzki said if there is someone better than him he would go home before accepting such a role. That had to be music to the ears of the Jays front office.
Hearing that, I would absolutely create a competition at the shortstop position and if it is close I would play a younger, controllable player and see if Tulowitzki follows through on his claim. If the Jays can get out from under his $38-million guarantee, they have to give it a shot.
Aledmys Diaz and Lourdes Gurriel Jr. are both legitimate options to beat out the veteran infielder. If Tulowitzki is not playing to the level of his contract, then why not try and grow with a kid. And if you can have a "less-than" shortstop with Tulo and a "less-than" shortstop without him, then play without him and use the money in more productive ways.
I honestly find it hard to believe that any player would walk away from $38 million, but maybe for a guy who has made $125-plus million already it isn't such a big deal. I would certainly applaud his principles if he walked away, but I would never ask him for financial advice.
Spitting Seeds
-Friday midnight is the waiver trade deadline and Saturday, Sept. 1, is the day that all clubs can call up players from the minor leagues and expand their rosters up to 40 players. Decisions for September call-ups can be tricky. Clubs need to bring up enough pitchers and position players to protect potential injuries through the month, considering that minor league seasons come to an end. It's also an opportunity to get a closer look at some of the players who might have a chance of being answers to teams' lineup questions next season.
The days of calling up players just to get a cup of coffee to experience the major leagues are long gone. Clubs value service time more now than ever before. Controllability of young players is critical for rebuilding franchises and that's where the Jays are right now.
-The Jays will not be calling up Vladimir Guerrero Jr. That has been debated over and over. It would be malpractice for the club to promote him now as the club needs to protect his service time and maximize his time in a Blue Jays uniform. I also wouldn't call up top prospects Kevin Smith, Cavan Biggio or Bo Bichette since none of them are likely to start in the majors next season. Biggio and Bichette understand what it takes to be major leaguers because of their MLB family histories, so they don't need to experience the majors for the sake of experience. Smith is just in Class-A ball at this point and has a way to go before he's ready. Moreover, the Jays don't want to add them to the 40-man roster just yet either.
If it were up to me, I would recall the following players: outfielders Anthony Alford and Dwight Smith Jr.; catcher Reese McGuire; infielders Richard Urena and Rowdy Telez; and pitchers Sean Reid-Foley, Justin Shafer, Mike Hauschild and Jake Petricka. This would allow for enough depth to protect injuries and blowout games. The Jays could use another infielder, especially if Donaldson is traded, but 40-man roster and depth may limit their options there. Yangervis Solarte will be back at some point from his oblique strain as well, which will help.
-The Philadelphia Phillies acquired former Blue Jays outfielder Jose Bautista from the New York Mets on Tuesday for a player to be named later. This is Bautista's third NL East team of the season. He signed a minor league deal after the season began with the Atlanta Braves and was called up to the majors on May 4 and then released on May 20. The Mets moved quickly to sign Bautista on May 22 as he will work a walk and can still get on base. In fact, he has more walks (56) than hits (55) this season. His combined numbers between Atlanta and New York are .196/.339/.364 with 11 homers with 42 RBI and 40 runs. He has 96 strikeouts in 280 at-bats. He has moments of impact still but they are less frequent than earlier in his career. At some point, pitchers are going to learn that they are better off throwing the ball over the plate to get him out rather than walking him so much.
-You only get one shot at a first impression and Cardinals manager Mike Schildt has taken advantage of his shot. Forty-five days after replacing Mike Matheny as manager, the Cardinals removed the interim title from his job description as the club announced on Tuesday that he has been signed to a three-year deal. The Cardinals have gone 26-12 since the managerial change, winning nine consecutive series and moving into the top National League wild-card position. The team is playing better defensively and the bullpen has improved dramatically as well under Schildt. The front office revamped the bullpen by calling up some young arms from the minor leagues, choosing talent over experience.
Schildt is the only major league manager who has no professional playing experience. He has been a scout and minor league manager and major league coach within the Cardinals organization. Despite not having playing experience, he is well-regarded by players in the organization for his communication and motivational skills.
With Schildt getting the extension in St Louis, it takes one of the better jobs in baseball off the market for some of the experienced former managers who are looking to get back in the dugout. Joe Girardi was regarded as a leading candidate outside of the Cardinals organization for the position as he had played there and has a good relationship with club president John Mozeliak.
-Blue Jay Kendrys Morales set a record for most home runs in consecutive games by a switch-hitter with seven. He was one short of the MLB record held by Don Mattingly, Ken Griffey Jr. and Dale Long. Interestingly, this season Morales is ranked second in hard hit percentage (55.1 per cent), trailing only Aaron Judge (56.3 per cent). He is just ahead of Ryan Zimmerman (54.3 per cent), J.D. Martinez (54.1 per cent) and Giancarlo Stanton (52.8 per cent) ­– a pretty elite group. His average exit velocity (93 mph) is above average (88.5), too. The only reason Morales doesn't have more homers is his launch angle (9.8 degrees) is below average (12.4 degrees) and he has hit too many balls on the ground.
The Jays have Morales (35) under control next season for $12 million. If somehow he can adjust his launch angle he could improve his home run total rather significantly. They say you can't teach an old dog new tricks but it is worth a shot as he could become a trade chip next year at the deadline for a contender.
-What a season we're experiencing. We have a chance for a triple crown winner in Red Sox slugger J.D. Martinez – he leads the AL in batting average, RBI and is one home run behind Kris Davis for the league lead. We have a chance for a new single-season saves record by Edwin Diaz of the Seattle Mariners. He has 50 and the record is 62 set by Francisco Rodriguez in 2008 with the Los Angeles Angels. The Red Sox still have a chance to break the record for most wins (116) in a season. The Yankees are on pace for 262 home runs which is just two short of the single- season record (264, set by the 1997 Mariners). They will be getting Judge and Gary Sanchez back in the lineup next week, so they should break the record.