Tatti & Louie B.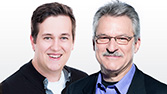 Jim Tatti and Louie B. break down the latest in Sports from 4pm - 7pm every week day.
Second overall draft pick of the Toronto Furies in the CWHL draft and Hamilton native Sarah Nurse joins TSN 1150's Tatti and Louie B to talk about being drafted, a busy past 12 months that included an Olympic Silver medal, and being reunited with Olympic teammates in Toronto and more.

Moffat: There's no QB controversy in Montreal

Montreal Alouettes play by play voice on TSN 690 Rick Moffat joins TSN 1150's Tatti and Louie B to discuss the quarterback situation between Antonio Pipkin and Johnny Manziel, why Mike Sherman hasn't named a starter for Friday's game.

Duthie: Biggest question for Bulldogs is who will be back

Cable 14 play by play voice of the Hamilton Bulldogs Reed Duthie joins TSN 1150's Tatti and Louie B to discuss the Bulldogs training camp opening up, what are the biggest questions facing the team heading into the year, who are the players to watch at camp and more

TSN Golf Insider Bob Weeks joins Tatti and Louie B to discuss Brooke Henderson's historic win on the LPGA Tour this weekend and where her legacy is heading as one of Canada's top athletes.

Hogan: There's something special about Labour Day

Toronto Argonauts play-by-play voice Mike Hogan joins Tatti and Louie B to preview the Labour Day Classic between the Tiger-Cats and Argonauts next Monday. They also discuss Duron Carter signing with the Argos and where he fits in on the team.

Barker: It's an exciting time to be a CFL fan

CFL on TSN analyst Jim Barker joins Tatti and Louie B to discuss the play of Montreal's Antonio Pipkin in the place of Johnny Manziel and also get into the plethora of young talent emerging at the QB position in the CFL.

Hamilton Bulldogs general manager Steve Staios joins Tatti and Louie B to preview this upcoming season and get his thoughts on the identity of this year's team.

Edwards: There's no replacing Williams

Drew Edwards from 3DownNation joins Ticats Today to discuss Chris Williams' season-ending injury, what it means for the team and how they stack up heading into the Labor Day classic.